Hello, and welcome to my website. This is a place where you will be able to find information about my activities, past and present. For ease of navigation, I've broken things down into various different categories. Hopefully you will find what you are looking for.
Award Winning Australian Pianist, Composer and Producer
Callum Watson is emerging as one of Australia's most exciting composers and pianists
- Samsara Dunston, Weekend Notes
infectious organ playing
- Forte Magazine
amongst the most creatively gifted musicians in the state
- Geelong Advertiser
---
Latest News
At Geelong After Dark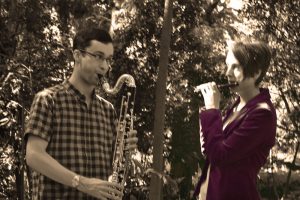 Earth, Wind and Fire, a work by award-winning Surf Coast composer  Callum Watson was performed by Jessica Zuk (Piccolo) and Joel Hands-Otte (Bass Clarinet).
This technically challenging yet sublime work explored the scope of earthy sounds that can be produced by this uniquely versatile combination of instruments.
---
Geelong's newest event "Fringe Sundays" sees local musicians collaborate on innovative, genre-spanning projects at Geelong's iconic Black Hatt Hotel. Expect something new at every event.
---
An extraordinary new CD produced by Callum, which sees some of Melbourne's finest classical and jazz musicians coming together for one of the most ambitious recording projects staged at St Andrews Anglican Church, Brighton has been released to the public.
The CD features 13 tracks in all showcasing the fruits of a new collaboration with flautist Jessica Zuk and clarinetist Joel Hands-Otte. 
---
Following their critically acclaimed performance, Callum Watson Group took on a two month residency at Club Voltaire on March 24 and April 28. "This residency really does close the generation gap and...has something for everyone." -Weekend Notes 2018 Callum was joined by Jessica Zuk (Flute, Piccolo) and Joel Hands-Otte (Clarinet, Saxophone)
---