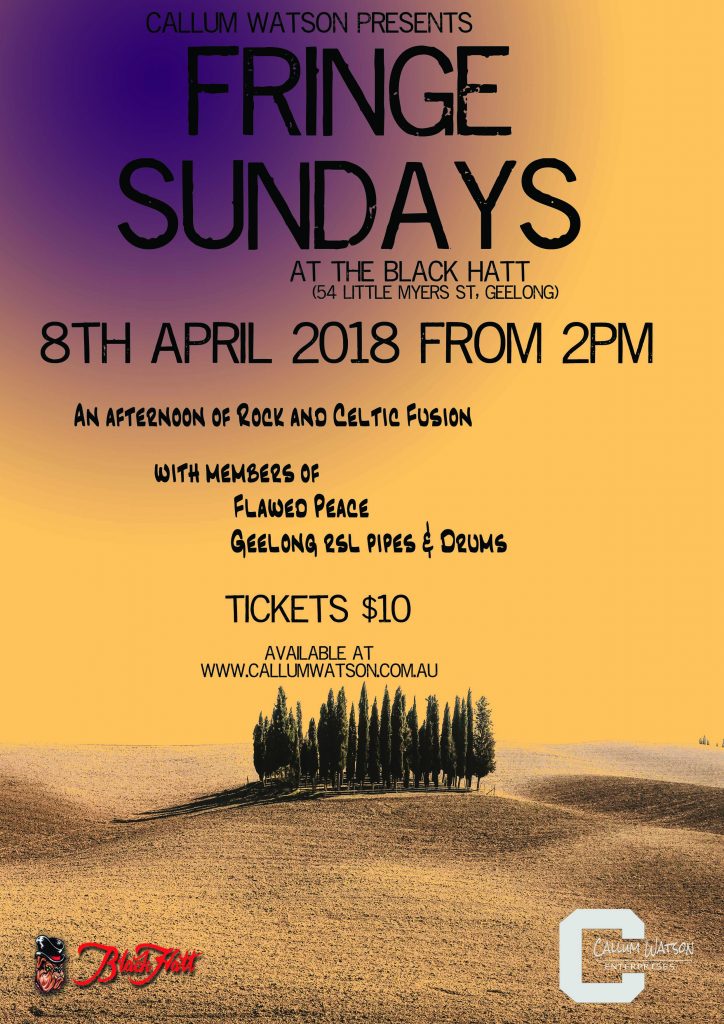 Fringe Sundays
---
TICKETS
---
VENUE
54 Little Myers Street, Geelong CBD
---
PRICE
General Admission         $10
Booking fees may apply
Geelong's newest event "Fringe Sundays" sees local musicians collaborate on innovative, genre-spanning projects at Geelong's iconic Black Hatt Hotel. Expect something new at every event.
For the first event, members of Flawed Peace and Geelong RSL Pipes & Drums collaborate for an afternoon of Rock and Celtic fusion.
The line up for this performance features local Geelong and Surf Coast musicians including Carlo Muncey and Michael Cordner from local rock band Flawed Peace with addition of Harry Dodd. Callum will be playing pipes alongside Alex Fraser from Geelong RSL Pipes and Drums. 
They will be playing new arrangements of songs from the rock, classical and celtic repertoires as well as compositions created by the group.
Personnel:
Callum Watson: Piano, Bagpipes
Carlo Muncey: Guitar, Vocals
Michael Cordner: Drums
Harry Dodd: Bass
Alex Fraser: Bagpipes
Presented By