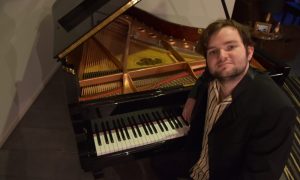 ---
Modern Recitals
---
TICKETS
Sat 24 Mar 2018 9:00pm
Sat 28 Apr 2018 9:00pm
---
VENUE
14 Raglan Street, North Melbourne.
---
PRICE
General Admission         $20
Booking fees may apply
Callum Watson Group  is an acclaimed ensemble combining Victoria's leading young classical performers and jazz improvisers drawn from renowned symphony orchestras, big bands and world ensembles. The group is led by Callum Watson, who is said to be one of Australia's most exciting pianists and composers.
In this intimate performance Callum collaborates with leading melbourne classical performers Jessica Zuk and Joel Hands-Otte to explore modern approaches to the classical and jazz repertoire.
The night will begin with each musician in the group presenting their own short 15 minute "power recital" shining a light on their own practice. Expect an array of different instrument combinations including solos, wind duets and more led by the different ensemble members.
After interval, the ensemble will come together for a traditional piano trio performance exploring Watson's compositions and arrangements derived from a wide variety of styles and influences.
"This residency really does close the generation gap and...has something for everyone."
-Weekend Notes 2018
Personnel:
(click on each artist for more info)
New CD "Echoes of Earth" is set to be launched at the first event of the Voltaire residency.
CD's will be available for sale on the night.
Program (24/03/2018):
Honegger - Danse de la Chèvre (Jess solo)
Doppler - Hungarian Pastoral Fantasie
Improvisation (Callum Solo)
Dolphy - God Bless The Child (Joel solo)
Pirotta - The Spectre Bride
Opening
Tales
Longing
---
Program (28/04/2018):
Pirotta - Boss Clarinet (Joel Solo)
Rasse - Lied for Bass Clarinet
Vorlová - Miniatures for Bass Clarinet & Piano (No.1, No.2, No. 4)
Schubert - Ständchen (Leise Flehen Meine Lieder)
Waller - London Suite (Callum Solo)
Honegger - Danse de la Chèvre (Jess Solo)
Intermission
Watson - Piano Trio
Astor Piazzolla - Oblivion
Watson - One Note
Watson - Playing with Division
Morton - The Crave
Intermission 
Watson - Piano Trio
Saint-Saëns - Tarantella
Watson - One Note
D'Rivera - Afro (Arranged by Joel)
Paterson - Waltzing Matilda (Arranged by Callum)